Style Magazines: Want scones and macarons to die for? We thought so.
I've always been a fan of high tea. Tiny sandwiches, tiny scones, tiny treats up the top… it's basically a whole meal of miniature food, and what's cuter than that? And who is going to say no to feeling like a powerful giant when devouring all those tiny servings? PLUS it's a socially acceptable reason to drink a little bit of alcohol in the morning (wink, wink!)
To satisfy my craving for a dainty tower of food, some of the Style gals and I booked a seating at Passiontree Velvet's Indooroopilly venue for for their full high tea experience.
The first thing that struck me is that Passiontree Velvet feels a world away from all the bustling shopping centre action. It's funny how you can be transported to another place by some luxurious furniture, touches of décor and calming sunshine streaming in from nearby windows.
With a chocoholic in our midst (me), we couldn't decide on whether to get the Duchess High Tea menu or the Chocoholic
menu. (Actually, they decided but I stubbornly refused to let the chocolate option go.)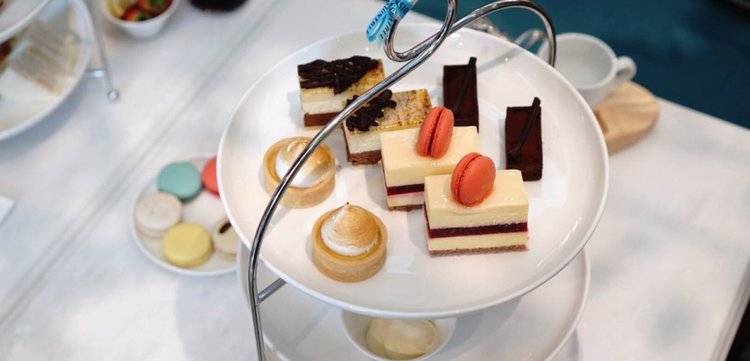 Photo from Stylemanazines
The Duchess option allowed us to choose our flavour of macarons, so we chose jasmine and cookies and cream.
The little sandwiches were very tasty but we pretty much wanted to move right on to the sweet stuff. The choc stand had a selection of cakes, mille feuille and chocolate macarons (because CHOCOLATE). The Duchess tower featured the traditional scones (light and fluffy) with jam and clotted cream.
We adored the little dessert treats at the top of the stand; the lemon meringue tart was the ultimate standout for me, and the jasmine macaron was just the right combination of crisp, light and chewy.
I'm already planning which macaron flavours I will pick next time I visit. (All of them. Duh.)
By: ELIZABETH BEST. Elizabeth is the former Digital Editor of Style Magazines. She knew she wanted to be a journalist from the age of six and has spent the past decade working for some of Australia's top publications. She also thinks mint chocolate is a gift straight from the heavens. All of Elizabeth's articles.