What a whirlwind of month March was! We've had some time here at Passiontree Velvet HQ to see which cakes topped the charts this month to see which cakes were our best-sellers!
In 5th place, was our Velvet Muse!
Everybody loves a delicious Red Velvet cake and that's why it's become our inspiration to transform it into a masterpiece! Always a favourite, our Velvet Muse features Red Velvet American style cake layered with cream cheese frosting. Finished with a fun and vibrant red, blue colour palette buttercream brush strokes with gold highlights and topped with red velvet and vanilla macaron with a pink chocolate sail. This cake is perfect for birthdays, weddings, picnics, gatherings and just really any occasion! Did you order our Velvet Muse last month?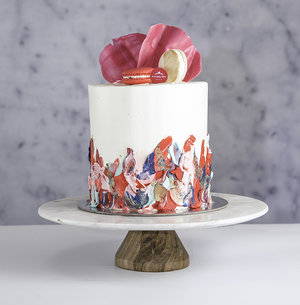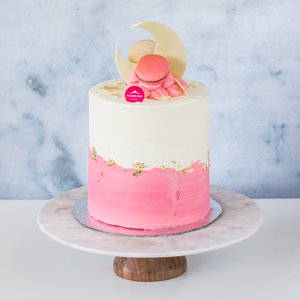 In 4th place, was our Stardust Occasion Cake!
Oh starry starry night, how the stars and moon shine bright! Our whimsical creation features vanilla American style cake layered with Nutella and milk chocolate buttercream, topped with white chocolate golden dusted moon, vanilla and strawberry macarons.
Our Stardust Cake is actually most popular for Baby Showers and well as children's birthdays! Our vanilla Nutella flavour is liked across all ages and simply a classic.
In 3rd place was our ever so cute,Unicorn Magic!
Our Unicorn Magic is the ultimate birthday cake - unicorns and rainbows! Celebrate your special event with our handmade rainbow vanilla cake, vanilla cream cheese frosting and iced in colourful Swiss buttercream.
It's a colourful and whimsical option for any birthday party or baby shower! A crowd pleaser for all guests regardless of age, definitely a fun and magical addition to any event.
Are you looking to order our Unicorn Magic this month?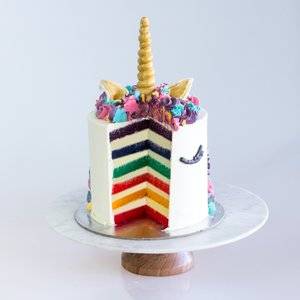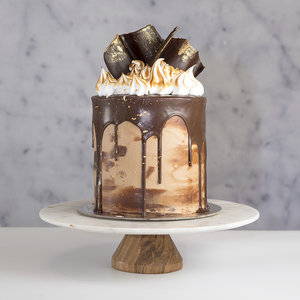 In 2nd place was our Chocolate Mirage!
Chocolate lovers rejoice — Our Chocolate Mirage is chocoholic's fantasy featuring chocolate soufflé American style cake layered with milk chocolate ganache and 53% dark chocolate buttercream. Glazed in chocolate drips and Italian meringue, topped with white and dark chocolate shards. Chocolate cakes will never be the same!
Perfect cake for all ages and events, our Chocolate Mirage is a feast for the eyes and tastebuds.
And now, in 1st place… our Picasso Occasion Cake!
One of Passiontree Velvet's most artistic signature cakes. Feauturing American style vanilla cake layered with cream cheese filling, strawberries and strawberry jam. Finished with vanilla buttercream, salted caramel and vanilla macarons and a white chocolate sail. Our Picasso is definitely one of our most popular cakes, and confirmed by this post! Definitely an event pleaser for all guests.