We love special occasions here at Passiontree Velvet and what better way to make occasions that much more special that creating the perfect bespoke cake to celebrate!
Discuss with us and let us help you create the ultimate custom cake for your event. From birthdays, weddings, baby showers, christenings, anniversaries, our team can talk with you and recommend ideas to guide you through this personalised experience. All our cakes are baked and decorated highly skilled and qualified patisserie chefs, designed by you!
So, how does the custom cake process work? How do I go about submitting an enquiry?
Firstly, think about the occasion you would like a custom cake for.
Is it for a birthday? A wedding? A baby shower?
Secondly, establish (approximately) how many guests will be attending the event.
15 guests? 50 guests? 100 guests?
Thirdly, have a look at some other cake design examples you like to get an idea of what you're after.
If you're not too sure, that's okay! Our team can help provide some ideas for you.

Once you have those starting points answered, view our Custom & Wedding Cake page here!

Here, you can view our custom cake sizes:
12 Dessert Serves (6") / from $150
24 Dessert Serves (8") / from $240
35 Dessert Serves (8" + 6") / from $340
50 Dessert Serves (8" + 6") / from $440
70 Dessert Serves (10" + 8") / from $580
90 Dessert Serves (10" + 8" + 6") / from $710
110 Dessert Serves (12" + 9" + 6") / from $845
And flavours including: 53% Dark Chocolate, Chocolate Peanut Butter, Chocolate Caramel Toffee, Tiramisu, Black Forest, Lemon Zest, Carrot Cake, Red Velvet, Vanilla Strawberry.
You can also view some images of our past custom cakes we have created!
If you would also like the option of adding a cake topper, please visit our partner cake topper supplier Communicakeit and select a design and what text you would like it to say.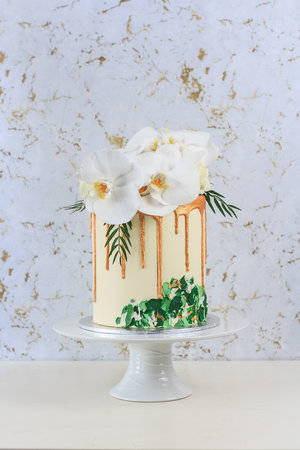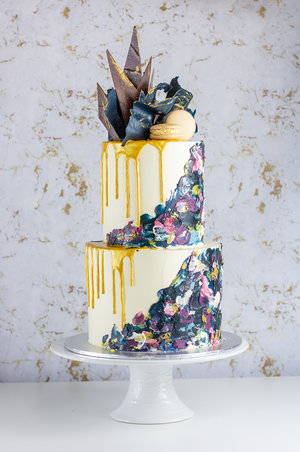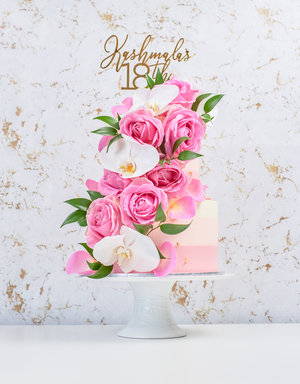 After all those details have been decided (including pick-up date, time location), follow the link on our Custom Cakes page to submit your enquiry!
I've submitted a custom cake enquiry, now what?
Due to the high volume of inquiries we receive daily, please be patient as our team tries to respond as soon as possible. From here, we will look at your enquiry and respond with what we can do for your cake! Please also remember to check your junk inbox as our emails sometimes get filtered there. Now, you can start discussing with us to organise your custom cake!