Who doesn't love a delicious cake?! Whether it's for birthdays, graduations, anniversaries, a beautiful and decadent cake adds that extra something to events.
However, we have noticed we get a lot of enquiries like:
-What cake should I get for my boyfriend?
-What cake should I get for my husband?
-What cake should I get for my dad or brother?
Choosing the right cake for men may become a struggle. The men in your life might not be as excited by pastel pink drips, macaron topped and floral cakes, so we've helped you break it down into picking the right cake for him, whether it be your brother, dad, boyfriend or husband!
What Cake Flavours do Guys like to Choose?
At Passiontree Velvet, we have noticed that many people ordering cakes for male events tend to select chocolate based cake flavours. In fact, our top 3 flavours selected by our customers for cakes for men are:
53% DARK CHOCOLATE
Dark Chocolate Sponge + Milk Chocolate Ganache

CHOCOLATE PEANUT BUTTER
Dark Chocolate Sponge + Milk Chocolate Ganache + Peanut Butter
CHOCOLATE CARAMEL TOFFEE
Dark Chocolate Sponge + Caramel + Toffee
With that being said, this goes for the majority, so ask your brother, dad, boyfriend or husband what he prefers and start from there!
What Decoration Cake should I Get for my Brother/Dad/Boyfriend/Husband?
When it comes to decoration, think about who the cake is for and if they have any hobbies, favourite movies, spreads (i.e. Nutella, Peanut Butter), drinks and try to base it around that theme. Popular designs include cakes decorated into a golf course, a tuxedo (007), a racing car, and the list goes on. As those designs require fondant, also consider buttercream options! You can read about differences between fondant and buttercream here.
Buttercream cakes with chocolate drips make a delicious base. You can then choose what toppings and decoration including meringues, macarons, chocolate or even alcohol bottles can be added to the cake.
Have a look at some previous designs we have created for men!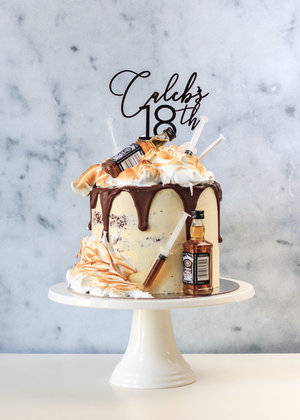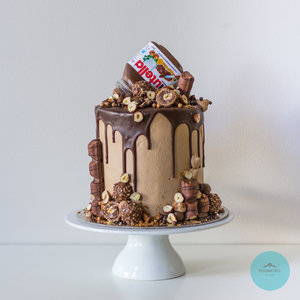 Even with our Occasion Cakes, we can change flavours and decorations (i.e. Picasso Design with Caramel Wonder (Chocolate Caramel Toffee) flavour and filling), so you can mix and match! This is a great option for those who are after a specific flavour in one of our designs they already like!
Our recommended Occasion Cake designs for men include: Caramel Wonder, Chocolate Mirage and Picasso.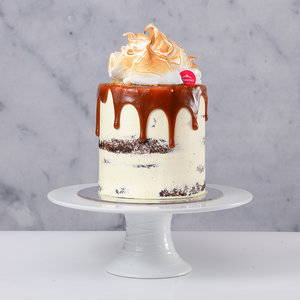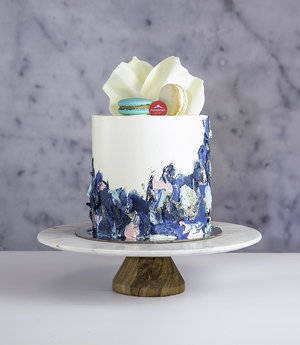 Have a look online at all your options, and talk with them to see what cake best suits their personality or theme of the event. We hope this post has helped you in this journey and best of luck finding the perfect cake to make the men in your life smile!