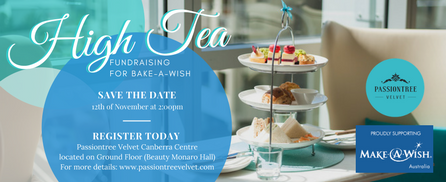 Passiontree Velvet and the Make-A-Wish Foundation have partnered up to bring a special high tea event to Canberra.
Passiontree Velvet will be holding a special high tea event to raise awareness of the Make-A-Wish Foundations new campaign 'Bake-A-Wish'. The aim of Bake-A-Wish is for people to run their own events at home or in their local community to sell baked goods to help raise money towards their target of $100,000 by March 2018 to go towards the Make-A-Wish Australia's one goal: to bring the vital, healing power of a wish to every child and teenager in Australia diagnosed with a life-threatening medical condition.
Passiontree Velvet will be running a special High Tea at our Canberra Centre store on Sunday the 12th of November at 2PM . For $50 per person (minimum two people), you will experience Passiontree Velvet high tea with unlimited tea and coffee refills in the Beauty Gardens of Canberra Centre, our charitable customers will also walk away with a small gift bag to help them with running their own event to continue the money raising efforts in Canberra.
To make a booking CLICK HERE and select date12th of November
For more information about Bake-A-Wish CLICK HERE