This post will be centred around one of our most popular piece cakes, ever — S'mores Bombe!

(So popular we even turned it into a whole cake last year from all of your wonderful requests)
This piece cake was Inspired by the classic s'mores, usually made by the campfire with toasted, gooey marshmallows sandwiched between chocolate and crackers. If you haven't been able to head in-store to try one yet, our S'mores Bombe features a marshmallow centre, caramel anglaise, Ghanian chocolate mousse coated with butter biscuit crumbs and topped with torched meringue. Perfect to indulge paired with a cup of coffee or black tea to cut through the richness.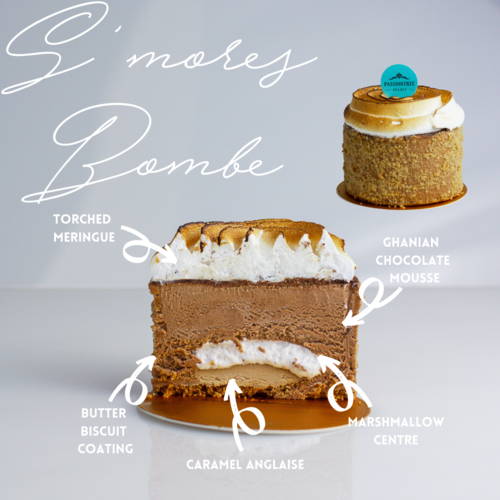 There are quite a few components and steps involved with the making of our S'mores Bombe. Firstly, the marshmallow and caramel anglaise insert need to be made and combined together to place in the Ghanian chocolate mousse later on. Then, the biscuit base is laid on the bottom of the tray and mould, the marshmallow and caramel anglaise placed in the middle on the base before pouring the chocolate mousse to fill the mould. Once the mousse has set, graham/digestive biscuits are crushed up and coated around the mousse. Meringue is then piped on top before finishing with a blow torch to toast the meringue!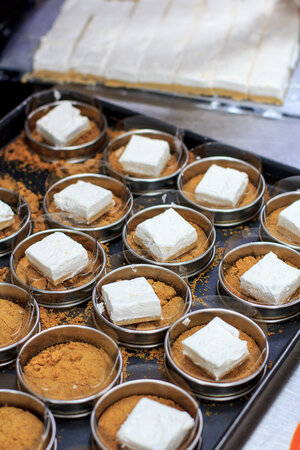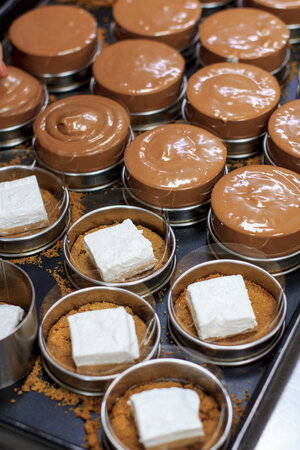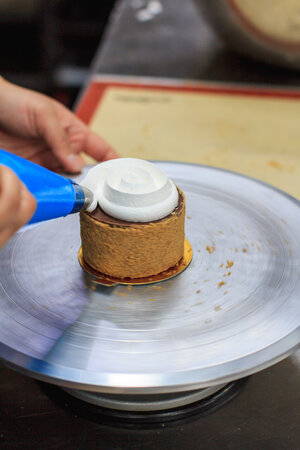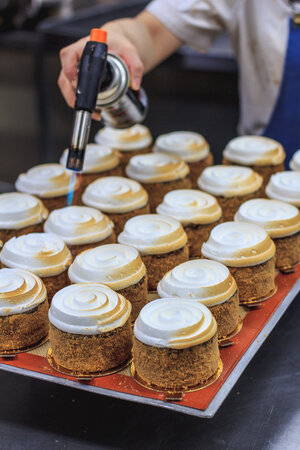 Apparently, the name "S'mores" is thought to connect "some more" into "s'mores"!
Either way, our S'mores Bombe definitely will have you wanting "s'more"!

Our S'mores Bombe Piece cake is available in all stores (until sold-out).
You can also pre-order our S'mores Bombe Whole Cake on our Online Cake Store or by clicking here.