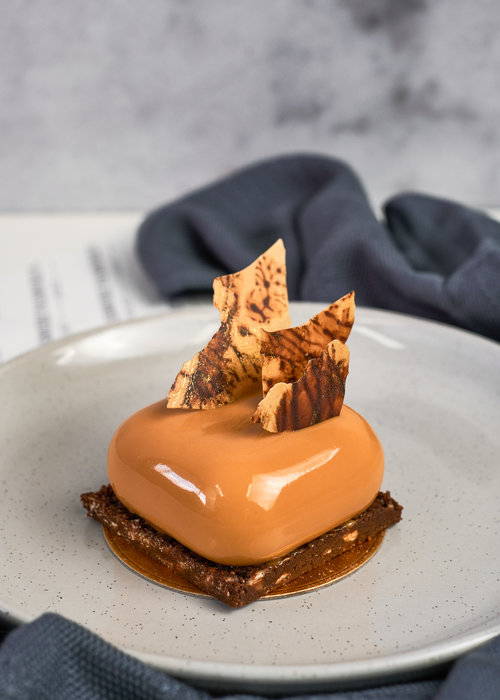 Caramel Mousse.
Earl Grey Mousse.
Chewy Caramel.
Feuilletine Base.
Marble Chocolate Shards.
Sounds like a perfect combination? Trust us, it is.

Our newest piece cake, Sienna blends all these flavours into one decadent, fragrant and beautiful creation which is now available as part of our seasonal range across all stores in Brisbane, Gold Coast, Toowoomba, Sydney and Gold Coast!
Our Sienna piece cakes features a chewy caramel centre enveloped in a caramel and earl grey mousse. Finished with a caramel glaze and marble chocolate shards atop a feuilletine base.
So, where does Sienna get its name from?

Sienna is an earth pigment — In its natural state, it is yellow-brown and is called raw sienna. When heated, it becomes a reddish brown and is called burnt sienna.

We've inserted sienna hues, tones and tints in the colour palette below:
These earthy colours and hues fit perfectly with the cake and we wanted to work with the idea that the cake to look artistic since sienna was commonly used as pigment for cave paintings.

Delicate is an also alternate meaning for sienna so this was incorporated with the delicate look of the cake as well as the fragile marble chocolate shards decorated on top!
So, if you haven't yet made a plan to visit us soon, what are you waiting for?! Our Sienna is available across all our stores for a limited time so come in and try one today.