If you haven't already seen this new addition in-stores, you are missing out! One of our new seasonal piece cakes, our Lemon Poppy Seed is feeling very popular already. Featuring lemon poppy seed sponge layered with yuzu jam, lemon zest custard and white chocolate mousse. Topped with whipped cream and crushed pistachios. This piece cake will have you reminiscing about the warmer, summer days ahead.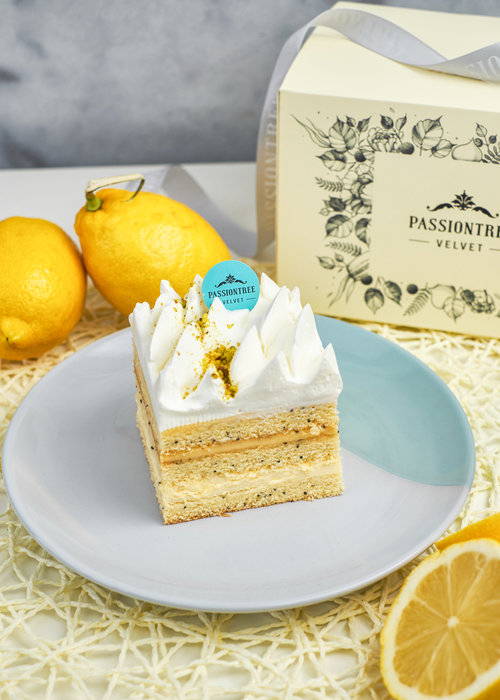 What is Poppy Seed?
Poppy seed is an oilseed obtained from the poppy. These tiny black, bean shaped seeds are gathered from dried seed pods and used all over the world. Poppy seeds can be used as a whole seed or ground up, or pressed to yield the increasingly popular poppyseed oil.
Poppy seeds are also a rich source of thiamin, folate and a number of essential minerals including calcium, iron, magnesium, manganese, and zinc.
These seeds are generally used as a spice or decoration. In our Lemon and Poppy Seed Cake, the seeds add a wonderful and subtle flavour to the cake, a compatible match for the citrus-y flavours!
Another question we often get is…
What is Yuzu?
Yuzu is a sour, citrus fruit resembling a mix between grapefruit, mandarin and lime. Is has a distinct aromatic smell and taste and is traditionally used in Korean and Japan cultures. however is also becoming predominantly popular in Western cuisines as well! Even better, yuzu is also high in Vitamin C and antioxidants, and can reduce inflammation and enhance your mood.

Combining these two main ingredients of poppy seed and yuzu makes one delicious cake! Zesty and refreshing, if you haven't had a chance to try it, you better hurry as this is a seasonal item so will only be available for a limited time!