The age old royal debate: Buttercream or Fondant? Well, both are great options for decorating cakes and we're sure everyone has their own preferences and opinions on buttercream and fondant. You just have to consider the style, theme and design of cake you are hoping to achieve!
Buttercream is a soft, rich, spreadable icing usually consisting of confectioner's sugar, butter (or shortening) and flavouring and can be used to decorate the outside of the cake as well as be used to fill between each layer of cake. Buttercream can be used to create rustic semi-naked finishes or smooth full-finishes.

What are the pros of using buttercream?

Buttercream is richer and full of flavour and is generally enjoyed amongst more guests compared to fondant due to its consistency and flavour. Fondant is typically very sweet and gummy, and many guests opt to just eat the cake and leave the fondant.
Can have different buttercream textures such as ruffles, horizontal stripes, vertical stripes, piped buttercream stars and many more designs with different piping tips!
A more cost-effective option compared to fondant as it is easier and requires less time to compare than rolling out fondant (and redo-ing the entire thing if there are wrinkles)! Fondant takes a lot longer to prepare and therefore is generally more expensive than buttercream.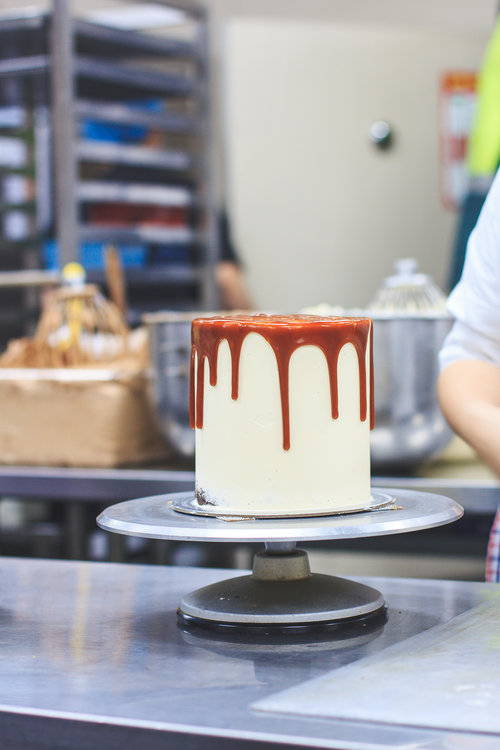 What are the cons of using buttercream?
Buttercream is softer and therefore you can't get it to hold a firm shape and may not be able to do designs you would like to achieve. If you're hoping to have a structured, architectural type of design, buttercream is not going to be able to help you.
Melts in heat and humidity so it is not ideal for summer outdoor events, where the cake will be sitting under the sun for a period of time. Buttercream in higher temperatures may pose a transportation challenge as buttercream may slide during the car ride or simply getting it from the cake box to the cake stand.
Fondant is made from confectioner's sugar, corn syrup and water cooked to a soft-ball and then smoothed. Food colour and flavouring can be added to make the fondant more palatable, but generally not as tasty as buttercream. Be prepared for guests who have never encountered fondant to ask whether the fondant is edible or not!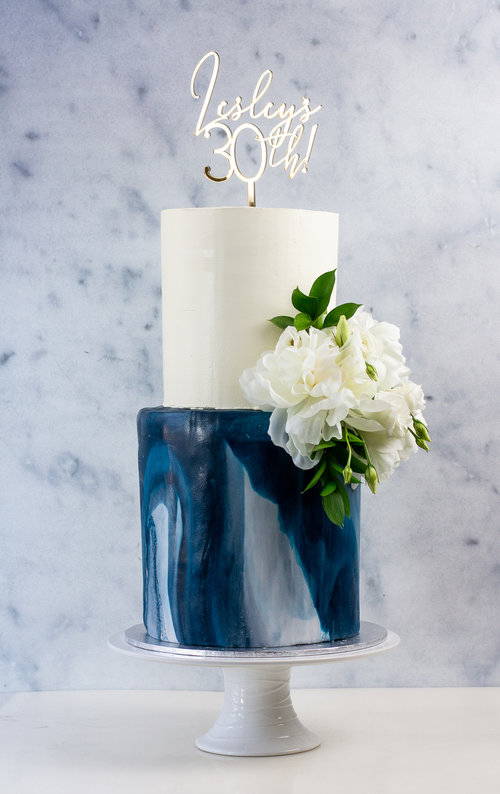 What are the pros of using fondant?
Fondant texture can be smooth and flawless once rolled and perfectly smoothed out, with no wrinkles after placing over the cake. If executed perfectly, the fondant will provide an airbrush-like appearance.
Great at keeping in the moisture. Fondant helps seal in moisture resulting in a moist and delicious cake after it has been cut.
Ideal for creating decorations and sculpting such as figures, flowers, bows, weave patterns due to its firm and harder form.
Buttercream is usually included beneath fondant! Buttercream is usually used to decorate the cake prior to covering with fondant so you can have the best of both worlds!
What are the cons of using fondant?
Guests may find the flavour of fondant less palatable than buttercream as it is more candy like and firmer than soft, rich buttercream. It is also super sweet as it is technically made from only sugar.
Fondant takes longer to prepare and adjust as you need to roll it out smoothly with no wrinkles. If mistakes are made with fondant, you usually will have to start again hence, fondant takes a lot longer to prepare and therefore is generally more expensive than buttercream.
Fondant dries quickly which may result in more cracks on the outside of the cake which cannot be easily fixed or minimalised.
Difficult to eat and cut through with fork due to its firm texture. Guests may find this difficult and awkward to deal with so may just eat the cake section and leave the fondant.
What's the Price Difference between Buttercream and Fondant?
As a general tip, for the same cake size, fondant will always be more expensive due to the time and skill required to roll and decorate.
At the End of the Day…
It's all up to personal preference and the style of cake you wish to achieve! If you're thinking what to get for your custom or wedding cake, have a chat with your partner, family and friends to see if they have had experience with each icing and also remember to talk to your cake supplier as they can provide some insightful advice!
Here, at Passiontree Velvet we create custom and wedding cakes, however we have found our customers generally prefer buttercream for its taste, appearance and versatility with being able to create drip cakes, piped buttercream and brush stroke effect buttercream!
For all custom cake and wedding enquiries, please click here to view all our information as well as to submit and enquiry today!