Imagine you and your partner, cutting into the cake in front of all your guests together, feeding one another the first delicious bite, how romantic! Whether you're having an intimate wedding with a few close friends and family or, a grand wedding with the whole town, the cake will be remembered by you forever.
Choosing the perfect wedding cake can be hard, especially with so many designs, flavours, sizes our there, it can make the task incredibly overwhelming to find the cake that's suitable to your style. So to help, we've created our top 5 tips to consider when finding the perfect cake for your special day!
Cake Sizes, Serving Sizes and Number of Tiers
When contemplating about what size cake to order, look at the number of guests attending. If there are 150 guests, it is recommended to opt for a three to four tier cake, whereas if you're having 60 guests, a two tier cake will suffice depending on the size of each tier. It is also important to note whether you wish to serve coffee or dessert portions at your wedding. Dessert portions are more generous in sizing, typically served individually or accompanied with fresh cream or ice-cream, whereas coffee serves are smaller in size, similar to petite fours in that they are usually served with other desserts as well as tea and coffee. You can read more about the differences between coffee or dessert portions in our previous blog post here.
Here is a list of our recommended sizes, serving sizes and number of tiers. Please note, we recommend dessert serves:
12 Dessert Serves (6")
24 Dessert Serves (8")
35 Dessert Serves (8" + 6")
50 Dessert Serves (8" + 6")
80 Dessert Serves (10" + 8")
110 Dessert Serves (10" + 8" + 6")
130 Dessert Serves (12" + 9" + 6")
There are also options to add fake tiers that can be created out of styrofoam to provide a more grand, exquisite appearance of the cake without the cost of an actual tier. This option can be discussed with us and we are more than happy to accommodate.
Flavours and Cake Tasting
With so many unique and innovative flavours and offerings available, your options may seem endless! Firstly, consider what flavour you and your partner would like to enjoy and also talk to your cake supplier to see what flavours are most widely enjoyed amongst a large number of guests. At Passiontree Velvet, we offer tasting boxes for our ten seasonal flavours available. This is the one of the most exciting parts of the wedding cake process, you can organise a tasting sessions with your partner, your bridal party or even by yourself!
When selecting flavours, you should also consider "safer" flavours such as chocolate, vanilla or red velvet that you know majority of the guests will enjoy as opposed to a flavour like rose or lavender, which guests may not be particularly accustomed to. At Passiontree Velvet, our seasonal flavours currently include:
53% DARK CHOCOLATE
Dark Chocolate Cake + Milk Chocolate Ganache
CHOCOLATE CARAMEL TOFFEE
Dark Chocolate Cake+ Caramel Buttercream + Toffee
TIRAMISU
Dark Chocolate Cake + Coffee Buttercream + Chocolate Ganache
BLACK FOREST
Dark Chocolate Cake+ Black Forest Cream Cheese + Cherry Jam
LEMON ZEST
Lemon Zest Cake + Lemon Mousse + Lemon Curd
CARROT CAKE
Spiced Carrot Cake + Sweet Cream Cheese
RED VELVET
Red Velvet Cake + Cream Cheese
VANILLA STRAWBERRY
Vanilla Cake + Sweet Cream Cheese + Jam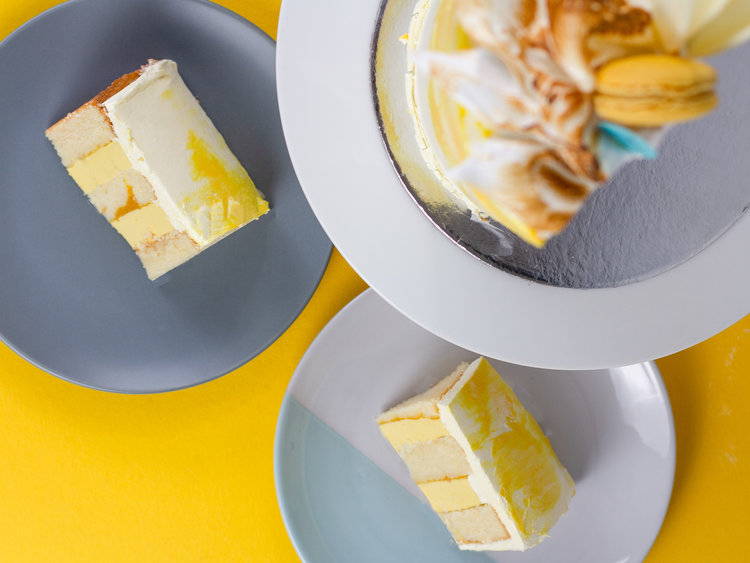 Understand your wedding theme and style and keep this in mind when choosing a cake design. Create a moodboard (Pinterest is a great starting point) to find designs compatible with the style of your venue, the season, your wedding dress and attire, floral arrangements or menu. This will help your cake supplier understand the theme and style you are going for. Providing a colour palette to your supplier is also a great tip.
Some ways to determine the design of the cake is to consider the theme. For example, semi-naked cakes typically suit rustic weddings, white embellished, tiered fondant cakes can be suited for more traditional, formal weddings.
Whatever style you go for, make sure the colours and themes matches your wedding and work with your cake supplier in designing your perfect cake!
Now, this is the important question — Popular opinion has it that buttercream is often much more delicious and enjoyable, meanwhile although fondant can be undoubtedly beautiful, guests may find it not to be the tastiest option. However, fondant does not necessarily mean you need to replace buttercream, you can choose the option to add a layer of fondant over buttercream. Also important to keep in mind, fondant is usually the more expensive option out of the two.
When deciding the frosting of the cake, it is also important to consider the weather! If you are having an outdoor wedding during Summer, avoid whipped cream, meringue and buttercream as they melt quite quickly. Here, fondant may be a handy option.
Cake toppers should be one of the last things to consider on the checklist. More couples are adding personalised cake toppers often in gold or silver mirrored finish to place on top of their cakes. Select a cake topper that represents your love and unity such as a "Mr and Mrs" or "Happily Ever After". You can view all the options from our partner supplier Communicakeit who do beautiful cake toppers, creating the perfect addition to your wedding cake.